Research Activity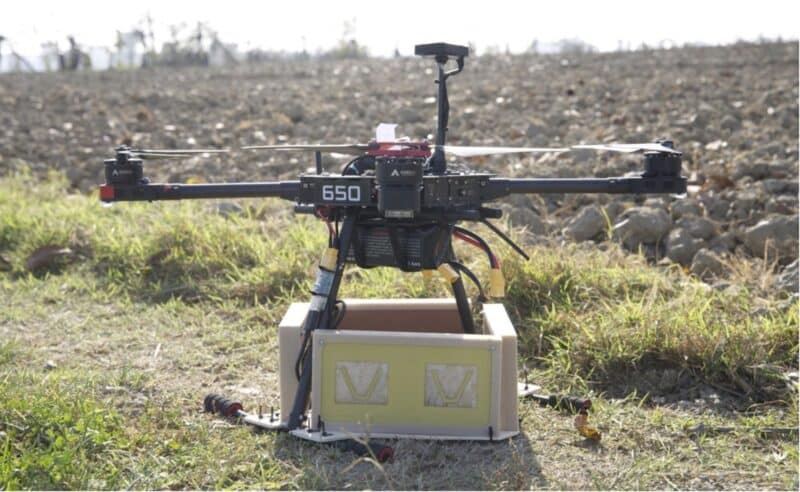 My research activity began in 2020, when I decided to start my Doctoral studies at University of Parma. I mainly focus on the design, development of IoT and communications systems for various applications.
Given my Telecommunication and Internet of Things engineering background, my PhD has been mainly focused on the integration and enhancement of wireless communications for drones BVLOS applications, with also several research activities carried out on radio-based localization techniques for drones using commercial wireless protocols, such as Wi-Fi, LoRa and UWB technology. Given my open, curious and determined personality, aided by a good spirit of innovation, in the project where I am involved I always try to imagine future applications, developments and implementations. In this page you can find some results I achieved during my doctoral studies.
Research Activity in the IoT, Drones and Telecommunications fields
Wireless communications for drones and robotics platforms
University of Parma, Italy & University of Luleå, Sweden
During my research activity in Italy and in Sweden, I had the opportunity to integrate several wireless communications protocols, such as Wi-Fi, LoRa, ZigBee, 4G LTE and 5G NR cellular networks on different kind of robotic platforms, like drones, rovers and even legged robots. More in detail, I evaluated the usage of Long Range protocols for both aerial communications and even for applications in harsh environments, like in a mine for example. I also proposed a hybrid LoRa-Wi-Fi mesh for UAV swarming applications, and I managed to develop a COTS-based Wi-Fi fully wireless mesh network for underground mine robotics applications, able to handle several hundred of Mbps throughput over different devices.
Publications: 
Multi Interface Gateway for IoT and UAV applications
University of Parma, Italy
During the initial phase of my PhD, I designed and developed a gateway equipped with several communication protocols (e.g., Wi-Fi, cellular networks, LoRaWAN, BLE and MavLink) with the aim to gather data from several sensing nodes deployed on a field using the most suitable technology. The system has also been adapted to be deployed on a drone, allowing the UAV to use several networks to communicate with the ground base station during BVLOS flight missions. In detail, I took care of the architecture definition, the COTS hardware choice and integration, as well all the software development, implementation, testing and evaluation. Moreover, I created a Markov chain-based Matlab analytical model with the aim to evaluate and estimate the performance of the gateway under several workloads.
Publications: 
Smart Selective Antenna System to enhance 4G LTE networks for UAVs
University of Parma, Italy
With the aim to decrease the intercell interference of the existing terrestrial 4G LTE cellular networks and thus increase the reliability of 4G connectivity for in-flight UAVs, I developed, in collaboration with the University of Perugia, a system composed by four MIMO 2×2 lightweight directive antennas feed by a switch matrix controlled by a selection algorithm. The proper antenna is selected according to the UAV in-flight position and heading, the nearby BTSs positions, the RF cellular network signal quality and the cell selection criteria. More in detail, I defined the overall system and I took care of the hardware integration of the system on the drone. I also developed the control algorithm and performed the testing of the solution, gathering several in-flight cellular network measurements with the aim to validate system.
Publications: 
Smart Selective Antennas System (SSAS): Improving 4G LTE Connectivity for UAVs Using Directive Selective Antennas 

[submitted]

On UAV Terrestrial Connectivity Enhancement through Smart Selective Antennas 

[submitted]
Wi-Fi-LiDAR-based indoor localization for robotics platforms
University of Luleå, Sweden
During my visiting PhD period at University of Luleå, Sweden, together my colleagues I developed a hybrid localization solution able to exploit existing Wi-Fi networks together with a LiDAR SLAM algorithm to significantly enhance indoor localization accuracy for robotics applications in harsh environments. The Wi-Fi networks data are fused with the LiDAR SLAM data, with the aim to create a Wi-Fi fingerprint map integrated in the point cloud map of the environment. Finally, both the data sources are used to locate the robot in the built map, with the Wi-Fi data significantly improving the accuracy of the localization in all those environments with repetitive patterns, such as in a mine tunnel or corridor, where the SLAM algorithms are heavily limited. In detail, I took care of the hardware integration and firmware development of an ESP32-based optimized Wi-Fi scanner to be installed on several robotics platforms.

Publications: 
Redundant and Coupled LiDAR-Wi-Fi 

Integration for Robust Global Localiza

tion in Autonomous Mobile Robotics

 

[submitted]
Drone radio-based indoor localization using UWB
University of Parma, Italy
To accurately localize small size drones flying in a GPS-denied environment, such as an industrial building, during my PhD I exploited the use of UWB technology. More in detailed, I used the Decawave modules, both anchors and target nodes, with the aim to obtain an accurate position estimation and maintain a low footprint of the target node to be placed on the drone. As a result, I have been able to obtain the real-time position with an average error within 20-25 cm, all while keeping the overall weight of the tested platform (composed by the drone, battery, Raspberry Pi 3 and UWB module) below the 250 grams threshold. A short demo is visible in the following video.
In the last months, I have also been working on the use of Wi-Fi.based localization, more in detail using Time of Flight and RSSI, with the aim to achieve a several meters accuracy for backup localisation of UAVs in harsh and GPS-denied environments.
Publications: 
Wi-Fi Time of Flight and RSSI-based UAV localization for long range applications

 

[ongoing]